Commit Today. Hire Tomorrow.
Take the first step. Make your commitment to adopting a skills-first hiring strategy and gain access to our National Opportunity Workforce, an exclusive network of mission-aligned training providers and ready-to-work talent Skilled Through Alternative Routes (STARs).
Our #skillsfirstjobsnow campaign brings together an ecosystem of employers, workforce development organizations, and upskilling providers that commit to hiring, training, and advancing traditionally overlooked talent.
Employer Commitment
I commit to creating a skills-first mindset that removes invisible barriers and reduces bias to build more inclusive hiring practices that open equitable access to talent Skilled Through Alternative Routes (STARs), such as on-the-job skills-building, internships, apprenticeships, bootcamps, workforce training programs, industry-recognized credentials, military service, and community college.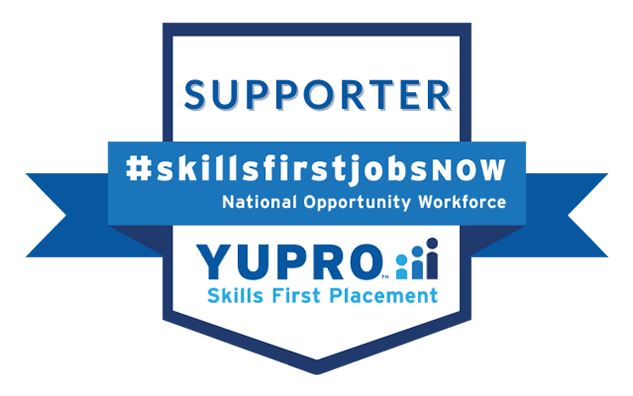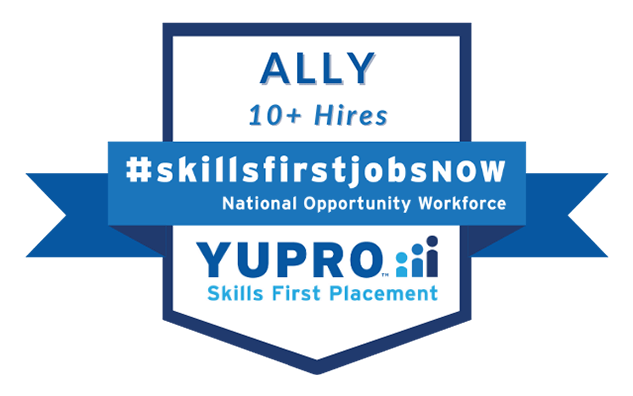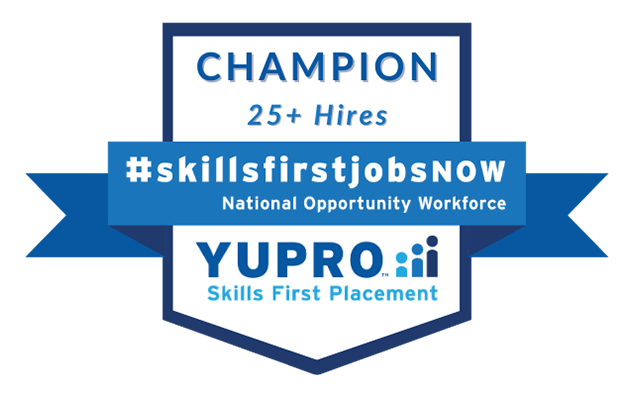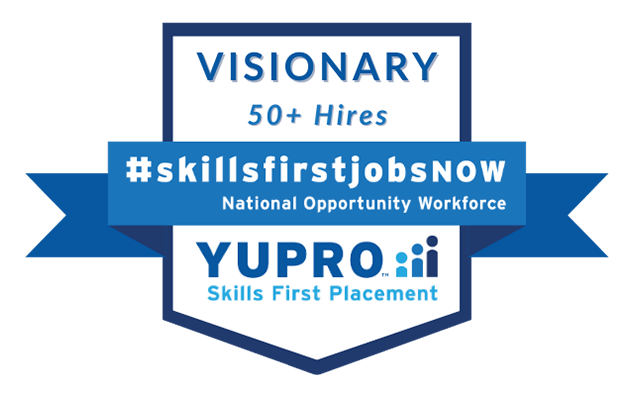 The YUPRO Placement Approach
National Opportunity Workforce
YUPRO Placement connects talent from our exclusive network of mission-aligned training and upskilling partners to employers seeking a holistic solution to sourcing, hiring, upskilling and retaining talent
Skills-Based
Job Placement
Our focus is on talent skilled through alternative routes (STARs), such as work and life experiences, certifications, bootcamps, and community college courses, solving hiring demands while driving social impact
Giving Back is
Part of Our Mission
As a public benefit corporation, we lead a purposeful ecosystem that champions skills-based hiring and broadens employer access to a diverse talent community, with proceeds from every job placement going to nonprofit partners

National Opportunity Workforce
Access our National Opportunity Workforce comprised of more than 100,000+ highly motivated and ready-to-work STARs from our exclusive network of training providers. Employers are able to fill critical talent vacancies, and talent are placed in career-progressing jobs at higher wages, while benefiting from our lifetime career and wraparound support services, upskilling programs, and professional development offerings.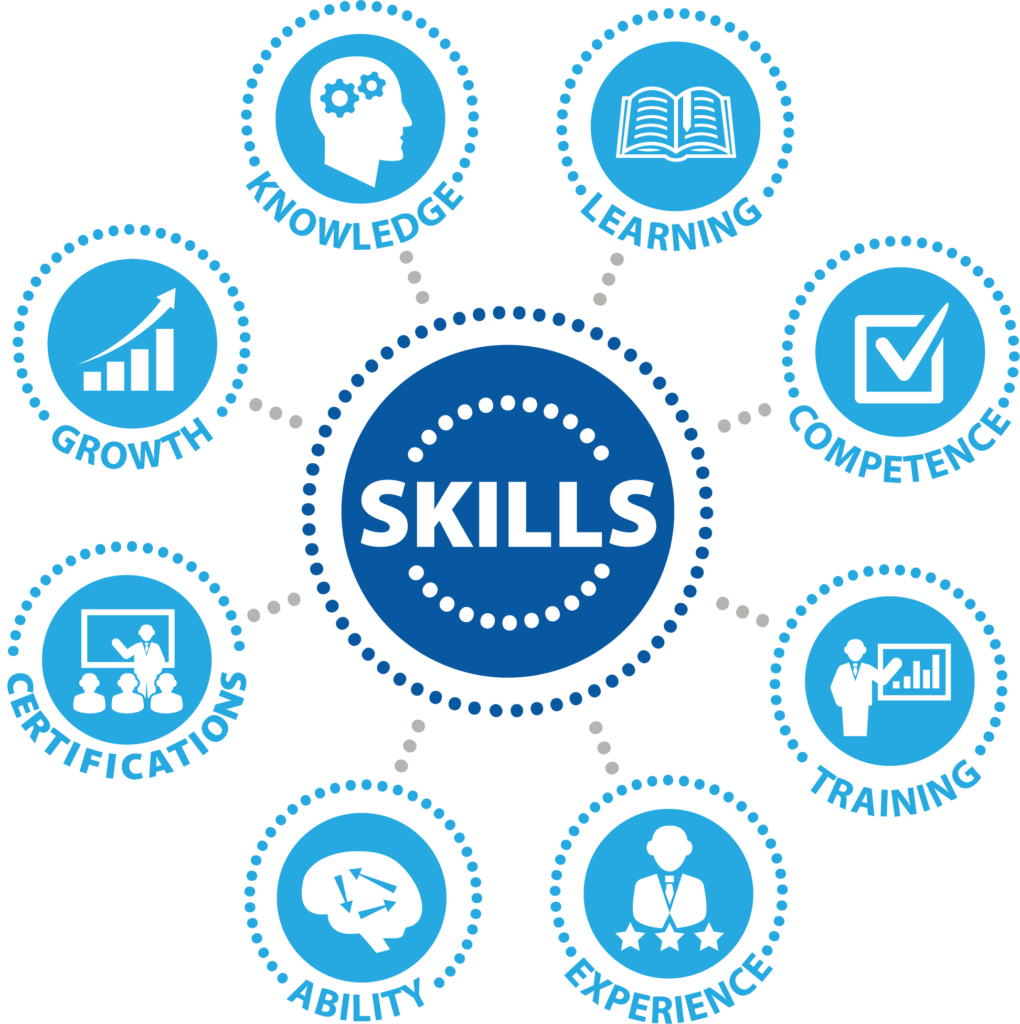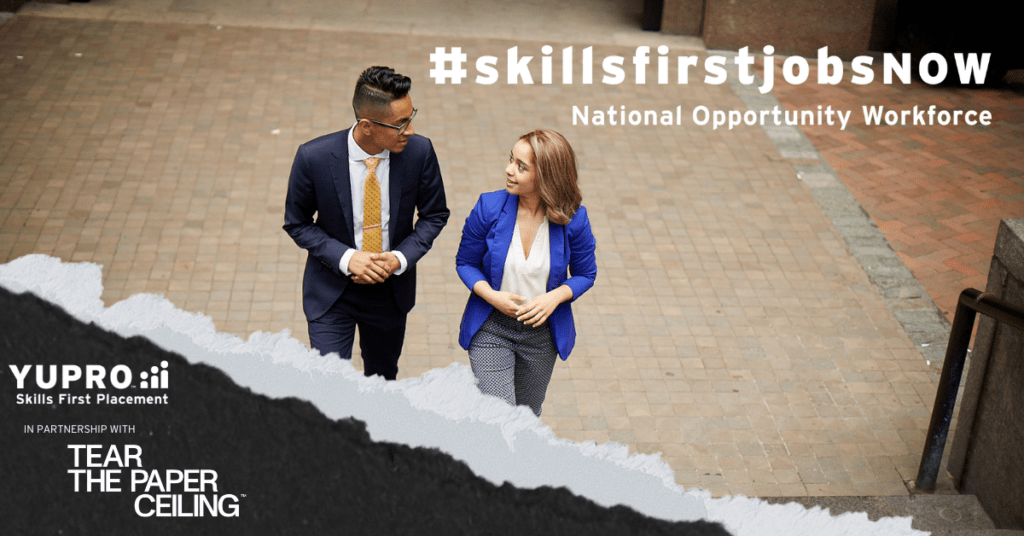 In partnership with Opportunity@Work
In partnership with Opportunity@Work and #TearThePaperCeiling, we rally with our nonprofit training provider partners and industry-leading upskilling certification providers to solve today's critical hiring needs.
Our mission is to move STARs from lower-wage roles into jobs with living wages and improve resilience to automation by upskilling talent with industry-relevant certifications that result in our National Opportunity Workforce having greater access to economic mobility.
#HireSTARs from our national opportunity workforce
YUPRO Placement invites employers to pledge today as a supporter, ally, champion, or visionary, and shatter the talent shortage myth together, building better workplaces by leveraging YUPRO Placement's National Opportunity Workforce and hiring STARs.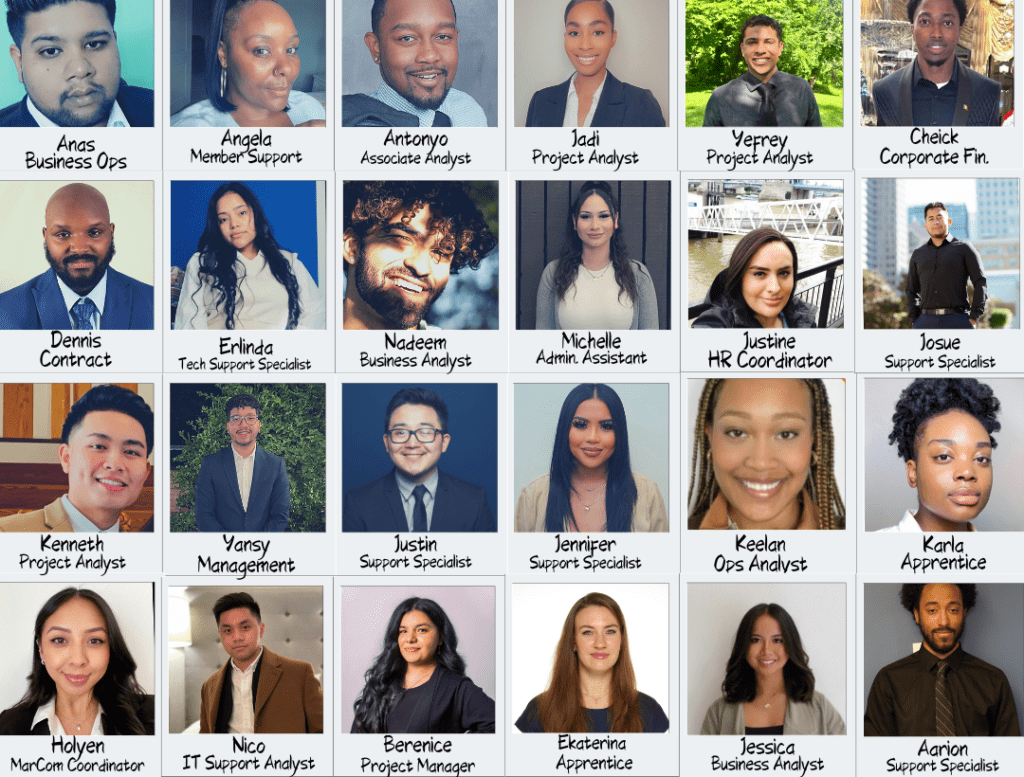 Four-Year Degree Requirements
Automatically Screen Out:
---
76% of Black American Workers
---
83% of LatinX American Workers
---
Why Skills-First Hiring?
01.
Focus on skills, competencies and potential vs. a 4-year degree and access the 66% of Americans skilled through alternative routes (STARs)
02.
Drive business results because skills are 5X more predictive of job performance
03.
Enhance the diversity in your organization by reducing education, background, and resume bias
04.
Increase retention and loyalty when talent hired for skills stay in jobs 34% longer
Our Ecosystem at Work
Our National Opportunity Workforce is 100K+ career-ready talent skilled through alternative pathways, such as internships, workforce development training, certifications, bootcamps, and community college courses. As a partner in our exclusive network, YUPRO Placement supports all partner talent in job placement, upskilling courses and certifications, along with access to wraparound supports, webinars, career services, and more.
With every placement, our nonprofit partners receive a proceed to further their mission.
Our Certification Providers
Talent drive business results and earn industry-recognized certifications and professional badges on-the-job (OTJ). You gain loyalty and productivity. It's a win-win hiring solution.
Our Expertise
Our solutions are uniquely designed to integrate into your current talent acquisition practices and elevate your skills-first hiring strategies.
We offer the upskilling paths, coaching, and wraparound supports that directly impact engagement, retention, and career advancement.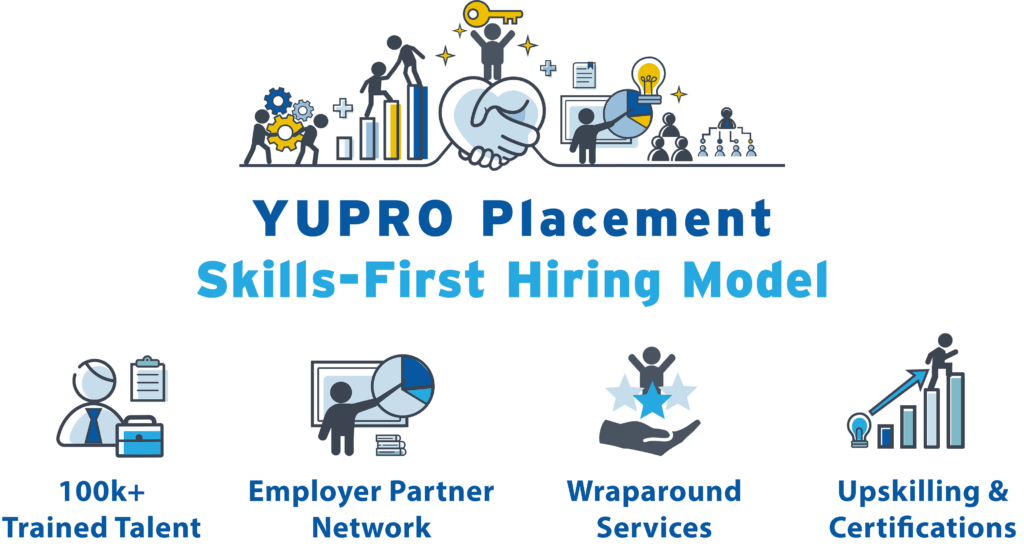 Join the Movement
Show your commitment to skills-first hiring and building a more inclusive workforce
why Clients and Talent
Partner with Us
Finance Company
New York, NY
"YUPRO Placement is a truly special partner. They're always looking out for the best interests of their clients. You can always count on them to not only deliver, but to do the right thing."
Tech Firm
San Francisco, CA
"YUPRO Placement is an incredible organization with a beautiful mission, and the young adults I've worked with over the last 8 years have been smart, driven, coachable, hardworking, and genuinely good people. The staff is friendly, responsive, and solution-oriented"
IT Security Analyst
Los Angeles, CA
"Toward the end of my experience I really valued learning how to narrow my job search. Because of my coach, I never lost hope & I'm thankful for receiving job offers in the market."