Hire for Skills. Invest in Talent. Accelerate Results.
Opportunity College IT Talent
Move Your Business Forward
Talent completed the Google IT Support Certification as part of a 4-month, 600-hour intensive course at Opportunity College, powered in partnership with SkillUp Coalition. Our job-ready IT talent are ready to make a difference in your workplace.

Job-Ready IT Talent:
Proficient in troubleshooting, customer service, networking, system administration, operating systems, and security.
Skilled in computer assembly, support documentation, route paths, subnets, and device software management.
Experienced in Linux, Cloud Computing, Data Storage, Recovery, Disaster Management, and Command-Line Interfaces.
Effective communication, both in-person and over digital platforms, utilizing adaptive strategies and tools.
Consider direct employment for Opportunity College IT Talent at no cost to your organization, and learn more about our wage-based apprenticeships and contract-to-hire solutions.
Fill out the form below to learn more about hiring Opportunity College IT Talent
Solving business needs, talent:
Offer an initial point of contact for customers and provide solutions to their inquiries; if issues remain unresolved, they will escalate to the relevant support level.
Assist in maintaining and upgrading network devices; proficiently install and configure desktop applications.
Monitor, route, and redirect problems to appropriate resources for resolution.
Provide support to users facing internet connection and printer problems, helping them troubleshoot and resolve the issues.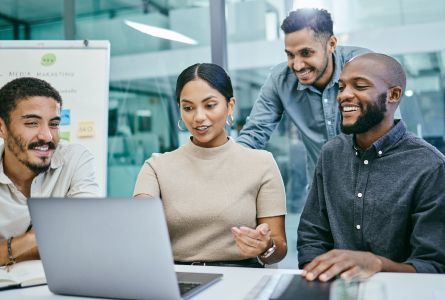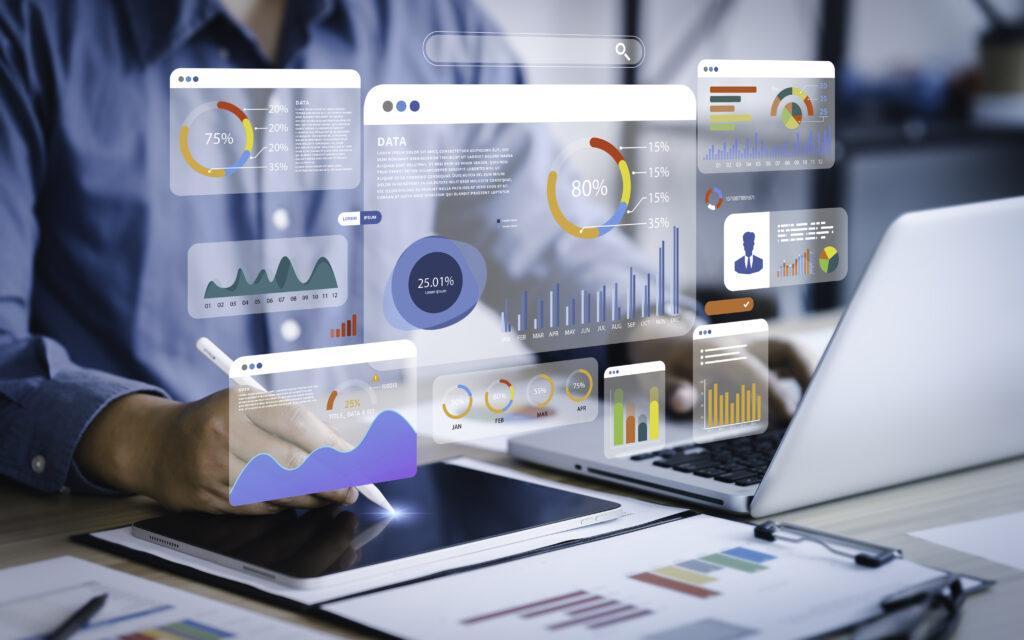 Fill in-demand jobs in the Dallas-Fort Worth and Houston Markets:
IT Support Technician
Application Support
Telecommunication Specialist
Network Analyst
Systems Administrator
Site Reliability Engineer
Wage-Based Learning Apprenticeships through YUPRO Placement
All-Inclusive
Full-service, all-inclusive program management where talent earn market wages, have access to healthcare benefits, and social service resources.

Results-Focused
Professional development seminars and high-touch coaching create a safe learning environment for talent to build confidence in the workplace, increasing retention and job engagement to move your business forward.
Upskilling On-the-Job
Structured upskilling available online coupled with work-based learning offering certified curriculum creating impactful job experiences that bridge your skills gaps in early-career talent.
Wage-Based Learning Programs
Invest in an early-career talent pipeline.
Apprenticeship assignments are 26 or 13-weeks in duration.
Apprentices work and learn on-the-job up to 36 hours per week + 1 hour of paid Professional Development with YUPRO Placement each Wednesday, for a total of 37 paid hours per week.
We offer flexible start dates in October and November to align with partner in-demand hiring needs.
Pricing Model*
Wage-based learning program fees offered through December 2023; includes $2,500 program fee, hourly wage for apprentice, health benefits, high-touch coaching, social supports, and customized employer-driven upskilling pathways for success on-the-job. *There is no fee to hire talent for direct hire placements.
Talent
Wage
Talent Fee
26 Weeks
Talent Fee
13 Weeks
$19.00
$27,600
$14,950
$20.00
$28,950
$15,600
$21.00
$30,300
$16,250
$22.00
$31,650
$16,900
We offer comprehensive support, empowering apprentices and employers during their wage-based learning experience and beyond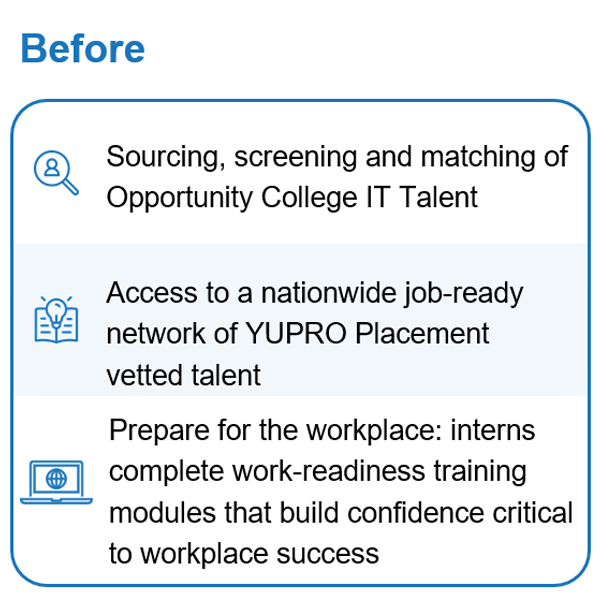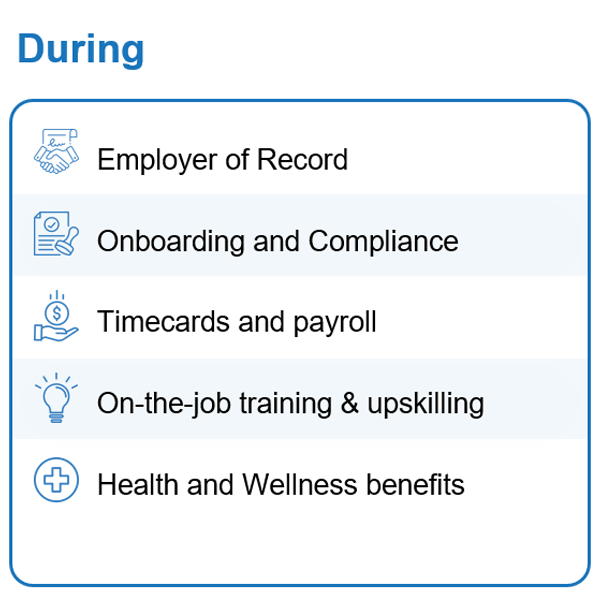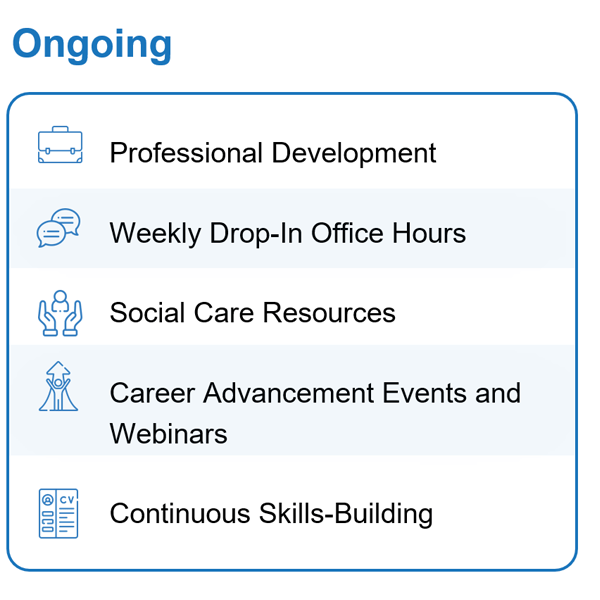 TRUSTED BY 150+ COMPANIES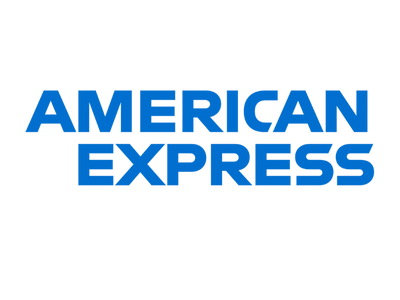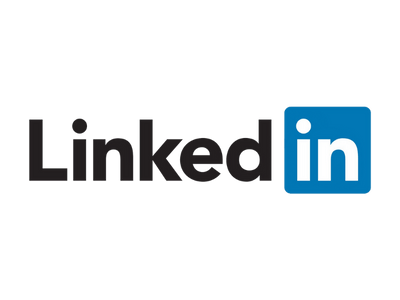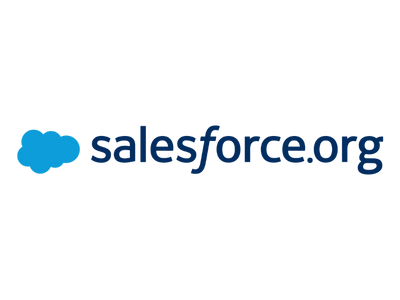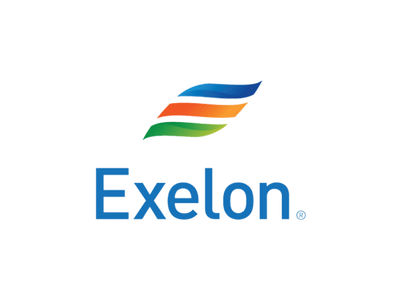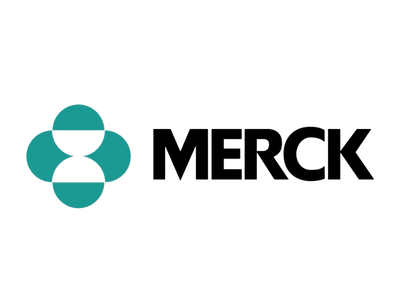 We connect forward-thinking, visionary companies with traditionally overlooked talent, Skilled Through Alternative Routes (STARs) by integrating a skills first strategy into their hiring process. As a result, our clients are able to efficiently fulfill their hiring needs with qualified talent, while making a social impact.